Listen to the latest message: God Wants Your Heart
In Acts 4:32-5:11, Luke puts side-by-side the accounts of Barnabas and Ananias and Sapphira. Both are examples of giving, but they are done with very different motives. God doesn't just want our obedience, our money, or our time. He wants our hearts first. Hypocrisy is a constant danger looking to take hold in the hearts of Christians.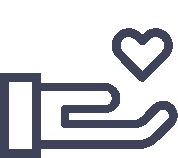 "He who supplies seed to the sower and bread for food will supply and multiply your seed for sowing and increase the harvest of your righteousness."